Prevent Tooth Loss from Trauma or Injury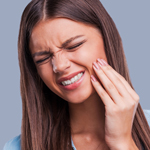 A properly fitting mouthguard will protect your teeth from trauma and injury to prevent tooth loss. It is a relatively little known statistic that approximately 5 million teeth are lost each year during participation in many different sports. We recommend a custom-made mouthguard that will fit with precision to give ultimate protection and will not hinder breathing during exertion.
The American Dental Association recommends the use of custom-created mouthguards for the following sports: Acrobatics, basketball, boxing, field hockey, football, gymnastics, handball, ice hockey, lacrosse, martial arts, racquetball, roller hockey, rugby, shotputting, skateboarding, skiing, skydiving, soccer, squash, surfing, volleyball, water polo, weight lifting, and wrestling.