Have Your Dream Smile Come True

We provide the best preventive care for a healthy smile. Part of feeling good is also having your smile look good. We offer the latest procedures in both dental health and cosmetic makeovers. They take much less time than you think, and we have options to fit every budget. Don't wait any longer! Come in and let us show you how bonding, whitening, and crowns can give you the smile of your dreams.
We Can Restore Your Smile in Just One Visit with CAD/CAM Crowns
Crowns are the ideal solution for a tooth that is broken or too worn-down so that a filling will not restore it to proper functioning capacity. Porcelain crowns give the tooth additional strength and blend with other teeth for a natural appearance. We use the chairside mill, which is a system that uses computer-aided design and creation of your crown right here in our office. This means a more precise fit with the best materials made while you wait!
A Bridge Replaces Multiple Missing Teeth
If there is more than one tooth missing in succession, a bridge is a suitable restoration. We make them from the best quality materials, and the bridge is secured in place with crowns on either side. This returns a full smile without any gaps.
A Brilliant, Dazzling Smile
Everyone wants a healthy-looking smile. And whiter, brighter teeth are part of what makes for an alluring smile. You can have a smile without stains or discoloration with our professional-strength whitening. We use the same method that you may have seen on television or in magazines. With power whitening, you can have beautiful white teeth in just one visit. And the results often last for years. We also offer whitening trays that we make in our lab. You finish the procedure at home with the supplies we provide, and within 14 days, you will have impressive results.
We are proud to offer our patients a new teeth whitening program called "Whitening for Life." For just a one-time fee, you will receive custom-made whitening trays and bleaching gel. And twice a year thereafter, you will receive complimentary bleaching gel, as long as you remain our patient. Not only can you have brilliantly white teeth, but you can maintain that dazzling smile for a lifetime.
A New Smile in Only Two Visits?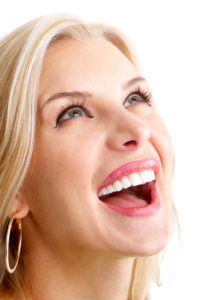 Yes, you can have a straight, even smile in as few as two visits! With porcelain veneers, we can correct all the unsightly problems of crooked, gapped, or discolored teeth. We use porcelain veneers made of the highest quality materials that we bond to your natural teeth. It is a quick and painless solution to give you your best and most attractive smile.
Another reason we offer veneers is for a chipped, cracked, or worn tooth. The veneer is made to match the other surrounding teeth to give a completely natural look.
We feature DURAthin veneers that are extremely thin and super-translucent. As they are so thin, little to no tooth reduction is required. Most of the time, not even a shot is necessary.
An Alternative for a New Smile
With Snap-On Smile, you can have a new smile at a very affordable price without any drilling, shots, adhesives, or tooth preparation. It is an appliance that goes over your teeth and is easily removed or worn while eating.
It provides our patients with a temporary but long-lasting solution to changing your smile. Snap-On Smile can last for years, and patients who have selected this option have been impressed with their new look. We know you will be too!
Coming Soon! Making Your Best Smile Look Even Better!
A beautiful smile is a wonderful thing to give yourself. But imagine how your new smile could look even better by removing facial wrinkles and age lines. In as little as one visit, we can erase lines and wrinkles from around the mouth, and erase those pesky crow's feet and stress lines on your forehead. We now offer BOTOX treatments to temporarily improve the look of moderate to severe frown lines between the eyebrows, in the forehead, and around the eyes.
We offer an additional solution for restoring youthful contours to the skin. Dermal fillers such as Juvederm are FDA-approved cosmetic fillers that are injected into the skin to soften creases or folds, support areas of volume loss, or contour specific facial areas. Local anesthetic may be used to maximize your comfort during the procedure. Call us today to see if you could benefit from these treatments.