Kids Will Enjoy Being in Our Care
Dr. Nanavati enjoys helping children of all ages keep their dental health at its best. Our young patients feel relaxed in his care and put their trust in him as he delivers their treatments with thoughtful compassion. Our team teaches the correct brushing and flossing techniques, so kids can take care of their teeth on a daily basis. We enjoy all their visits starting at eight months of age and thereafter as they grow up.
Our goal is to provide care in a happy environment, so children do not have fears of a dental office throughout their lifetime. As parents have related to us, their children feel relaxed while receiving treatments at our practice. We can help you too, if you have a child with anxiety, to change his or her mind about dental treatments.
Your Children's Dentist Helps Them to Have Good Health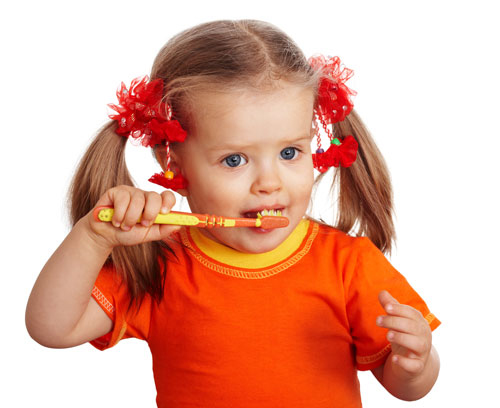 We want children to grow up having good dental health, and part of that is ensuring they clean their teeth properly every day. Their teeth are prone to cavities during their childhood and adolescent years, and this is why:
Children do not brush as well or as frequently as needed. We encourage parents to oversee the care of their daily hygiene until children make these good habits a continual practice.
As children eat throughout the day, their teeth are more frequently exposed to the acids produced in the mouth from eating. Continual exposure to these acids can cause more cavities. That is why it is important that parents be sure they clean their teeth each day and do a thorough job of brushing and flossing. If teeth are not as clean as they need to be to begin with, additional acids will increase the amount and rate of cavities.
We recommend one application of a mineralizing varnish to help protect teeth from decay. We encourage healthier, more nutritious food choices over excessively sugary ones to help keep natural teeth cavity-free and intact for a lifetime.
SOPROLIFE Finds Ultra-Small Cavities Years Earlier
Have you ever had a dentist find a cavity and place a large filling, and wondered why the filling is so large if the cavity wasn't there just six months before? The cavity was there six months before it just wasn't big enough to show on X-rays, and it wasn't visible to the dentist yet. Using special fluorescence technology, SOPROLIFE can find cavities years earlier, when the small cavity can be removed and repaired with a small invisible bonded filling. Sometimes patients complain of tooth sensitivity, or mild to severe pain, yet X-rays and examination cannot pinpoint the source. Patients are often given sensitivity toothpaste to deal with the problem. Sometimes, dentists have to perform root canals to get the pain or sensitivity to stop, when the actual source turned out to be undetectable decay. SOPROLIFE can find previously undetected decay and, once identified, allow us to remove the discomfort and leave you with a healthy smile.
A Very Effective Measure Against Tooth Decay
Children often miss some of the contours and grooves in back teeth. As bacteria and acids build-up, decay will start. Any amount of decay means permanent damage to a tooth and requires a restoration. Fortunately, with the advancements in dental science, there is a quick and easy way that helps to prevent the occurrence of cavities. One application of a dental sealant greatly helps. Here's the whole procedure: Teeth are cleaned and sterilized. A thin, invisible coating of the sealant is applied. The sealant is bonded with a curing light. And that is the entire procedure that takes just minutes. No shots, drills, or tooth removal is necessary. We advise having this treatment both on children's and adolescent's teeth. It is proven to be very effective in the fight against decay.